Dear Little –
When we went to our weekly library reading time, I told you something in the car.  I said "Remember today, Ace. Remember today. Today is the day the first woman in our country's history became the nominee for President."
You did prove that you were way more perceptive than I assumed for a three-year-old, the conversation took an interesting, hilarious turn.
"So Hilary is running for President."
"Yes."
"Is Donald Trump running for President?"
"Yes."
"But he's so mean."
"Yes, yes he is."
"Can't he just go to Saturn and bring all the mean people with him?"
If only we could find a way, Kiddo. If only we could find a way.
But there are mean people in the world. There will be mean people at the park, at the playground, in your preschool, and it sucks. It really, really does. In today's world, it seems like there are a lot of mean people, mean ideas, and things that are unfair in ways that I don't want you to understand just yet because you're three. Just remember to treat everyone with kindness and empathy. If you see a bully, stand up and defend the ones getting picked on. Also remember that at times it feels like everyone is mean or angry, it's not always the case. Look for the good in places when it looks pretty bleak. It's there – you just have to find a way to find it.
Today, in the car, I asked you to remember something.
Something big.
Something important.
While we are in 2016, women and girls are not afforded equal pay for equal work in comparison to our male counterparts.
States around the United States of America – the country of which we are proud citizens – still continue to find loopholes that prevent women from getting affordable health care through groups like Planned Parenthood, or look for ways to keep private health discussions between a woman and her doctor.
Something no man has to endure.
Something that you, as a three-year old, kept asking  while listening to the news, "Why are girls different?" And I answered truthfully.
They're not.
Sometimes, when young people grow up into big people, we forget what it's like to be a young person looking at things through just one lens: Fairness. If I give your friend Leo five crackers, and you one cracker, you would point out instantly that this wasn't fair. Yet as big people, we deal with it all the time, and we sometimes don't treat other big people fairly.
Yes, it took a lot longer than it should have to nominate a qualified lady to possibly become the leader of the free world. It really, really did take too long. She's being judged in a lot of unfair ways because she's a woman (and a lot of fair ways because of things she's done). My hope is that maybe, just maybe, watching her ascend to the presidency (I can only hope) can give you a confidence that you can do anything, too. We are watching a woman who learned how to play the game that men have been playing for centuries without nearly the kinds of criticism that she's enduring/will endure, and she's doing it in a way that isn't lowering herself to a bully's game. I hope she can keep it up for the next 100 days.
I hope you use your powers for good. Maybe to even help other girls in other countries realize that they are equal, valuable and wonderful people, too. It's hard, and a lot of mean things are going to happen to her and to other women who are confident, knowledgeable and successful. My hope is that this will diminish over time and that you won't have a clue what I'm talking about.
My hope is you'll read this in 20 years and think, "Oh, Mom. You worry wart. Always assuming the worst. It's fine. Everything is rainbows and ice cream."
That would be great. Ideal, even.
You're a girl, kiddo. Maybe this century, girls can finally run the world and treat everyone fairly and equally.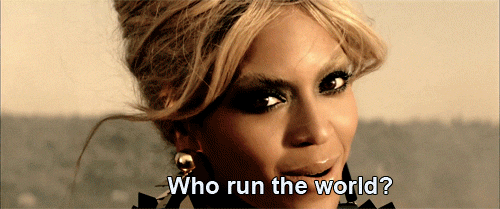 Love,
– Mom